Recent statistics show that there are about 28 million small businesses across the United States, with about 500,000 being added to the market every month. Coupling that many established businesses with a strong emerging market equals an ideal setting for competition. The competitive lines are drawn between small businesses, but they are also drawn between small businesses and larger ones.
How does a salon remain relevant and competitive? One way is to learn the branding techniques big retailers use since they have successfully navigated the same task. Here are a few lessons to share with merchants.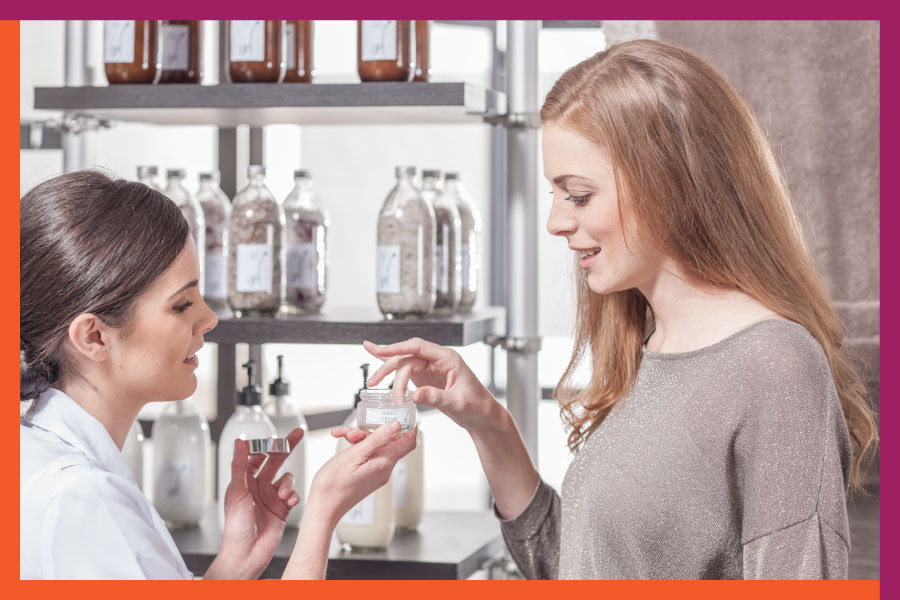 Great Customer Service
A salon's success is directly tied to its clients' customer service experience. It's not the only factor, but it is one of the most important ones.
According to the 2022 Customer Service Barometer, a study American Express conducted, 7 in 10 customers said they spent more money at a business based on their customer service experience. In fact, the study showed consumers are willing to spend 17 percent more for good customer service, which is a 3 percent increase since 2014.
Those statistics show there's a significant opportunity for salons to gain clients, maintain those relationships, as well as increase revenue and profit by simply making a concerted effort to meet their clients' needs and appreciate them for choosing their salon to receive the services they need.
Examples of providing great customer service may include recognizing and rewarding client loyalty, addressing client concerns and allowing clients to schedule appointments at times that are convenient for them.
Prioritize Your People
Employees are on the frontlines when it comes to salon customer service and introducing the community to the salon and what it has to offer. Both responsibilities drive the salon's efforts to gain new clients, retain clients and generate revenue and profit.
According to Gallup, engaged employees are more likely to have a positive effect on customer relationships. Nurturing customer relations, in turn, has the potential to generate a 20 percent increase in sales.
Here are some simple tips regarding how salon owners can prioritize their employees:
Make sure employees have access to tools and training that help them to continually develop their skill set, which allows them to effectively and efficiently perform their job. Also ensure employees are in an environment that's both conducive to learning and working.
Ensure there are clear lines of communication that allow honest and open discussions. They are on the frontlines which affords them an intimate look at business operations.
Create an environment that's a healthy balance between working and health and well-being. Examples of how salon owners can promote a positive work-life balance may include providing time off to take care of emergencies and routine obligations, as well as to rest and recharge, and offering a health and wellness program.
Recognize and reward employees on a regular basis. While "employee of the month" is a great idea, salon owners may also want to be open to recognizing and rewarding their employees on a more frequent basis and for a variety of other reasons.
Create opportunities for employee promotions from within and support employees when the best opportunity to move forward in their career is to move on.
Create a Presence
Big retailers usually have multiple locations, while small businesses typically have one location. Location can be a valuable tool for a salon because it's not about how many locations the salon owner has but rather the strength of the salon's presence in the market in which it operates. Clients cannot frequent a business they are not aware of.
As a small business, a salon's strength lies in how it uses grassroots, or community-based, opportunities. Here are some key strategies:
While customers tend to naturally share positive customer experiences, customer feedback can be even more beneficial when salon owners create an avenue via which customers can share those experiences with the community and encourage them to use it.
Participate in community events whether it's setting up a booth or table, or sponsoring community events. Both create a two-way communication path where the salon owner gets to know the community and the community gets to know the salon owner.
Salon owners can use social media as a way to communicate with their clients whether it's an advertisement for a special event or responding to a client question or concern. Clients appreciate feeling a connection to a business they support.
Techniques to Take Advantage Of
Big retailers place emphasis on creating a brand that will make them stand out in a market saturated with similar businesses. It's not any different for small businesses, such as salons.
Salon owners may not have the same resources or market presence big businesses have, but they can learn branding techniques that can strategically position their business to succeed. Here are few techniques salon owners can implement:
Maximize their resources, including grassroots marketing (word of mouth, social media and community media outlets), budget, and community participation (attending events, sponsoring events and giving back).
Determine their niche market and focus on developing, maintaining and growing it.
Respect and appreciate customers who remain the best community marketing partners.
Create an active, positive relationship with employees because they are the primary face of the salon. They have a significant effect on customer experiences and the salon's community image.
Successfully implementing branding strategies will go a long way in helping salon owners remain relevant and competitive.