What to Do When Your Customers Are
Less Than Thrilled
While the best way to manage bad reviews is to not get them in the first place, business operators, especially those in the service industry, know that bad reviews are an inevitability. And like any other crisis, salon owners should have a plan in place for how to deal with bad reviews when they come in.
In a previous post, we discussed the importance of online reviews and review management. With nearly 95% of customers reading online reviews before engaging with a business, word-of-mouth marketing is the most valuable (and least costly) source of marketing available to salon owners.
Before salons can manage any negative reviews, they need to know where those reviews can be housed. The most common channels are online review sites like Yelp and Google, but reviews can also be left through a wide variety of mediums ranging from social media pages, like Facebook, to niche industry-specific review sites to consumer protection agency websites, like the Better Business Bureau.
Once merchants have the basics of customer reviews figured out, they can begin to develop a plan for how to handle review and reputation management.
Your plan may include a designated Public Relations professional or agency, or a reputation management software system, but all reputation management plans should include these important characteristics…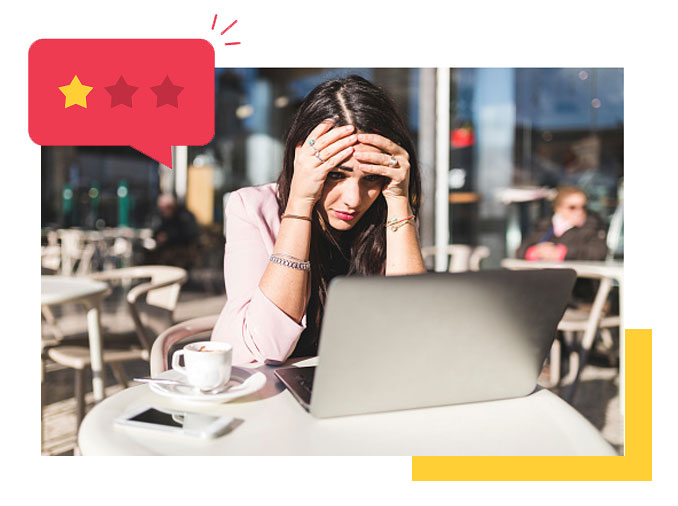 Don't Panic
First thing's first: Do. Not. Panic. Bad reviews happen and you shouldn't be afraid of them. Even the worst, most scathing review can be handled if you have a plan in place.
Remember that we do not live in a world of 5-star experiences and that bad reviews do not equal bad business.
Time is of the Essence
Timing is everything.
You can't address what you aren't aware of, so make sure you are receiving alerts of all reviews about your business—the good, the bad, and the ugly. It is typical to receive email notifications from sites like Google and Yelp when your business' profile has any new activity, including customer reviews, but you will only receive these notifications (1) if you've claimed your business on these sites, (2) you have your account set to receive notifications, and (3) your email server isn't sending these notifications directly to your spam or junk folder. Set your salon up for success and check your settings to make sure you stay informed of what is being said about your salon online. This can also be accomplished through a reputation management software. Once you are confident your salon is in the best possible position to be alerted of any impending gloom, if a negative review does come in, you will be able to react in a timely manner.
Before you respond to a negative review, you must first assess the situation. Instinctively, when you see a negative review online, your initial impulse may be to defend your salon's honor and respond immediately telling the reviewer (and the world) that they are wrong but responding in the heat of the moment can cause more harm than good. Take a step back and carefully consider how you should respond. Does the reviewer have a legitimate complaint or are they simply trying to cause chaos? This is where having a plan in place prior to any issues arising can come in handy because it will provide you with a guide that was developed under better circumstances instead of as a reaction to an ongoing situation.
Be Human
Understand that even though you are upset about what may have been said about your salon, the reviewer is upset about their experience. Many times, when customers are upset and don't feel like their concerns are being addressed, they simply want someone to listen and feel heard. Therefore, it is important to acknowledge their situation and be empathetic in your response.
Don't Point Fingers but Do Apologize
Remember that the customer is always right (usually). While there will be some who are just trying to cause trouble, most customers with a complaint have genuine concerns they want to see addressed and are willing to repair the relationship if the business corrects the problem. Don't play the blame game; always apologize and be genuine when you do.
Owning up to your salon's role in the situation and offering a sincere apology can go a long way to not only earning back the respect (and possibly the business) of the reviewer but shows future prospects (who you know will read the review later) that you genuinely care about your customers' concerns and satisfaction.
When to Go Public and When to Go Offline
The internet is like throwing gasoline on an argument fire. A back-and-forth comment war on the internet does not resolve any conflicts. Your best bet is to take the issue offline after your initial response to a bad review and resolve the problem there.
Actions Speak Loudest
Offering an apology is just one step in reversing the damage done by a bad review. If you do not back up your words with actions, the reviewer is likely to follow-up their initial comments with that information. Don't just cajole the customer with apologies and promises; do something about their concerns. Take real steps to resolve the problem, then follow up and make sure the customer is satisfied with the actions your salon has taken. Just as a customer is likely to follow up their initial review with additional complaints, they are also likely to follow-up with the resolution if they are satisfied with the response.
Learn from Missteps
Whether any bad reviews your salon receives are founded or not, use them as a learning experience. From bad experiences come good lessons. Use negative customer experiences as a teaching opportunity to train salon staff on what is and is not appropriate behavior or conversation with a customer, and what they can do to mitigate negative customer feedback before a customer leaves the salon. Many times, a problem can be resolved before the customer walks out the door if the issue is caught in time.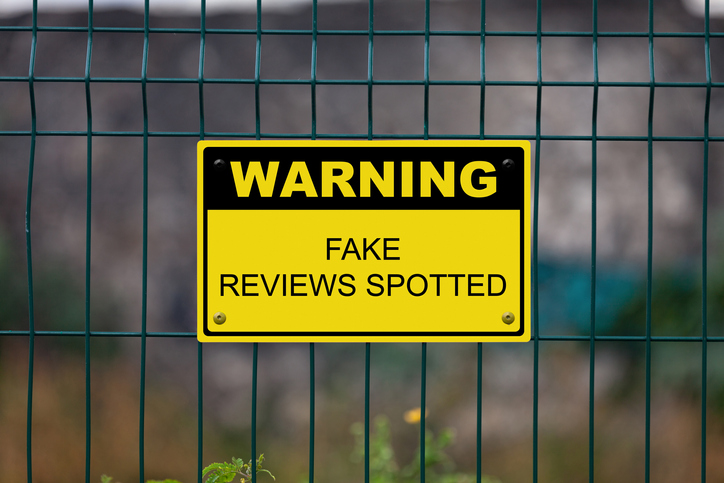 Fake News
Fraudulent reviews are, unfortunately, a possibility. These can be made by customers that have been to your salon and are fabricating an experience that did not occur or by people that have never utilized your services. Even if you know a bad review is fake, you need to respond. Remember that you are not just addressing the reviewer with your response but showing prospects that you care about customer satisfaction.
If you receive a fake review, address the complaint and apologize, just as you would with a legitimate concern. Offer to resolve the situation and provide them with contact information to take the issue offline. You'll then want to flag or report the review as fake. This does not guarantee that the review will be removed, which is why a response is still necessary.
Wrap Up...
News spreads like wildfire, especially bad news. Word-of-mouth can be your salon's greatest marketing tool, or it can be your worst nightmare. When bad reviews happen, it can be disheartening for a salon and difficult to bounce back and deal with the situation with a clear head. Remember that bad reviews are not the end of the world, but they do need to be resolved. Not all negative reviews are created equal. No two situations are the same, but there are guidelines you can follow to best handle bad reviews. That's why it is important to have a plan in place before these situations arise. You can use this post as a guide to help you develop an effective communication plan that includes how to respond to negative reviews.
Integrated with the world's largest and most advanced Scheduling Software Platforms, REACH.ai created a seamless solution for our partners and their customers to help keep the appointment book filled and staff productive. Join us for a personalized demo of Reach.ai, our A.I. Automated Customer Communications & Marketing Platform. If giving us a call is more your style, dial 888.796.5755 for the scoop on what we offer and what we've been up to lately. Thanks!