What to post on social media,
that is the question...
It takes only eight seconds for the average person to get distracted and people form first impressions in about 7 seconds, which means what you post online has a shelf life, and a short one at that. Content expires quickly. It needs to pack a big punch in a small package.
Content is king – always has been, (likely) always will be. Having content is important, but having content for the sake of having content can be detrimental to your online reputation. The digital world is dripping with content – far too much of it. So much content, in fact, that as of 2016, it would take 23.8 million years, give or take, to consume everything on the internet (and there's been quite a lot of content published since then). And the pace of content creation is skyrocketing at a mind-blowing rate. Around 90% of the data available today was generated in the last few years alone and society's love of social media only fuels the rapid increase of data creation.
The question then becomes: with so much content available and so little time in which make a lasting impression, how do you stand out?
Tip: At its core, social media is advertising. Y

ou

want to make sure that what

you

post is interesting and relevant and valuable. Above all, it should be bold and eye-catching and entice customers to engage more with

you

r content.
If you've been following along in our series, then you should now have a handle on the basics of social media – some easy-to-digest tips and tools for how to get started. From here on, we'll be taking a deeper dive into what to post on social media, including some specific examples, as well as sharing platform-specific guides that will give you the tools they need to grab customers' attention and hopefully keep it.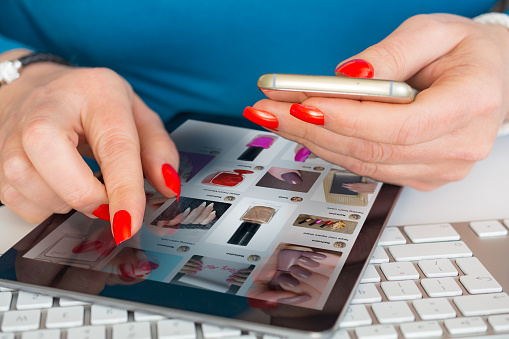 Visuals
While content still reigns supreme, words are all but dead. The average reader spends 15 seconds or less on an article, but visual content is much easier to consume. Not only is it easier, but when done right, visual content has been found to increase message association, brand awareness, and engagement. Followers engage with visual content 120% more than they do with text-only posts. With that said, here are some great examples of visual content that salon and spa owners should consider. Make sure most content looks professionally done. Visual content should be beautiful.
Finished Style Shots
Social media can act as a portfolio or an extension thereof and you should take advantage of that capability by showing off your skills and services.
Bonus Tip: Content should always be relatable. Consumers should be able to associate to the post and feel like it could be a snapshot of their life.
Contests and Giveaways
The effectiveness of social media contests and giveaways has come into question in recent years but, simply put, people like free stuff and running contests on social media is still a great way to boost engagement and generate leads. But running a social media contest may not be as simple as it sounds. There's quite a bit of work that goes into running a successful contest. The good news is there are plenty of guides and tools to help you flourish and the end result can be well worth the investment.
Salon Professional Spotlights
Customers want to get to know the dedicated salon and spa professionals who dote on them. Social media is a great opportunity to welcome new employees or to highlight some of the work being done by staff. Include a professional headshot or a photo of the pro in action along with a brief bio and some fun facts. Posts like this humanize your marketing, and helps maintain a personal connection with customers. It can also help to boost morale among your salon and spa professionals.
Live Content
Video, including live streaming, is projected to make up around 80% of online content in 2020. Live content has become increasingly popular and is another great way to humanize a brand. It allows brands to engage with audiences in real time and empowers consumers to ask questions and connect with companies on a more personal level. You can utilize live streaming through behind-the-scenes tours of your space or live demonstrations of services.
Tip: Y

ou

shouldn't worry too much about "messing up" or saying or doing the wrong thing. A live stream doesn't need to be as polished as other posts.
Sponsored Content
Algorithms are constantly changing and making it harder than ever to reach existing followers organically, let alone trying to engage new ones. Paying for sponsored posts and ads is almost a necessity today, but it allows you to reach people in your area with hyperlocal targeting. The good news is, social media ads are relatively inexpensive and can reach many prospects for a nominal investment. Your marketing budget should include a line item for social media spending.
Know the difference. Boosting a post allows your existing audience to see your posts more visibly in their newsfeed. A sponsored ad is one that reaches beyond current followers and allows you to target people outside your existing network but within your target audience based on parameters you sets. You need both to be truly successful.
Informative Resources
The best type of content, by far, is visual. However, it is still important to give some substance to social media channels and for you to show thought leadership in the salon and spa space. This can be accomplished by posting content directly from your own blog or from other reputable sources. Long-form content of this nature is best hosted on platforms like Facebook or LinkedIn. While it is necessary to vary the type of content being posted to social channels, you should know that long-form content will likely see the least amount of engagement.
Takeaway
It's easy for experts to give advice on social media and then leave you to your own devices, but inspiration isn't always so easy to come by, especially starting out. Having specific examples of what to post on social media is a great asset.
There's no need to reinvent the wheel. Most importantly, social media is meant to be fun and if you are doing that, your audience will too! Stay tuned for the next part of our series. 😎