Why Customers Stop Coming Back
Loyalty can be categorized into two main types: customer loyalty and brand loyalty. While the two are closely intertwined, and both are equally important to a salon's customer retention, they do bear some distinctions. Customer loyalty is all about customers returning to your salon and is largely tied to the overall spending power of consumers and what your salon can offer them in terms of pricing and incentives. Brand loyalty, while related, has very little to do with the dollars and cents of the customer-salon relationship and more to do with a customer's emotional connection to a brand, which often supersedes any monetary value. Both concepts deserve a place in your marketing strategy, as they are equally important and have the potential to drastically improve your salon's ROI long-term.
According to a BIA/Kelsey and Manta joint report, repeat customers spend approximately 67% more than new ones. Coupled with the fact that it is 16 times more costly to cultivate a new customer relationship than it is to strengthen an existing one, it is clear that customer retention is the name of the game.
But before you learn how to retain customers, you need to first understand why they aren't coming back to begin with. Here, we'll dive into some possible reasons why customers, even if they've had a pleasant initial experience, may not return for another.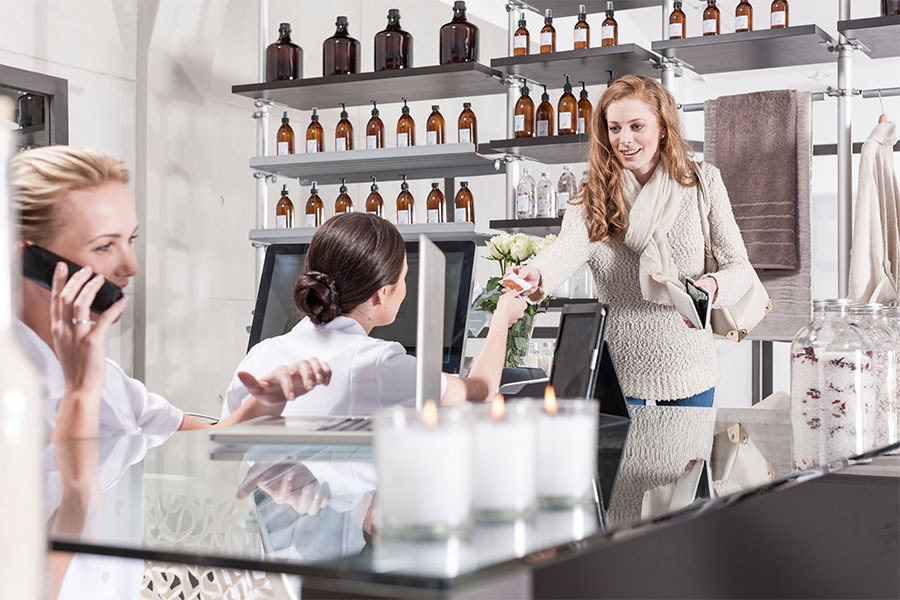 Your Salon Doesn't Stand Out
As of 2022, there were nearly 1.5 million hair and nail salons in the United States, with projections showing growth to over 2.1 million by 2028, according to an IBIS World Report. That's a lot of competition, especially in larger cities where there is a higher concentration of people. If your salon does not distinguish itself from the dozens of others in the surrounding area, it could get lost in the void.
But how do you set your salon apart from the many? The first step is to get your story straight. Your salon's story, and how you tell it, matters. It gives your customers an anchor – something that connects them to your salon – and builds brand loyalty that goes beyond just the cost of services.
But standing out doesn't mean being everything to everybody. A Wunderman study found that 89% of consumers are loyal to a brand that shares their values. Identify what makes your salon unique, find your tribe, and appeal specifically to their wants and needs.
Their Experience Was Just Good Enough
Your first-time customers had a better-than-okay experience, but not an over-the-moon one; they were satisfied with the service they received and what they paid for it, but they wouldn't lose sleep over never coming back.
Especially in the beginning of a relationship, business-customer relationships included, it is important to go above and beyond. That's not to say that this level of customer care should drop once a client is hooked, but at the start of a new relationship, salons need to woo their new clients a bit; pull out all the stops and show them what it's really like to be a customer at XYZ Salon. Figure out you're A Game and make sure every customer that walks into your salon gets to experience it.
Nobody likes to be the one in the relationship that puts in all the effort, so don't make your customers work for your love and attention. Customers are four times as likely to rely less on or discontinue business with a company completely if they feel that they are putting more effort into the relationship than the business. If you don't show your customers you care, you could end up losing them.
You Haven't Given Them a Reason To
Something as simple as inviting customers to book their next appointment during the checkout process before they leave the salon can have a huge impact on retention rates.
Incentives are another great way to attract new customers and retain existing ones. More than half of consumers are willing to test out a new brand if offered an incentive and 60% of customers cited surprise rewards as a reason for their loyalty to a brand. Keep the momentum going with an automated marketing tool that sends discounts via email to your customer base or by implementing a loyalty rewards program.
Maintaining contact with thoughtful and meaningful messages ensures that your salon is at the forefront of your customers' minds when they are looking to book services. This doesn't mean sending emails for the sake of sending emails, but having a well-developed engagement marketing strategy.
Bottom Line: Build Customer Loyalty
Customers may have an enjoyable experience at your salon, but that alone does not guarantee they'll be back. With so many alternatives available for consumers, salons must go above and beyond to actively engage their customers to build brand loyalty and keep customers coming back.
Integrated with the world's largest and most advanced Scheduling Software Platforms, REACH.ai created a seamless solution for our partners and their customers to help keep the appointment book filled and staff productive. Join us for a personalized demo of Reach.ai, our A.I. Automated Customer Communications & Marketing Platform. If giving us a call is more your style, dial 888.796.5755 for the scoop on what we offer and what we've been up to lately. Thanks!