Improvements to the REACH™ platform include:
Improvements to the REACH™ platform include:
A world class client experience is a 360-degree engagement cycle, which seamlessly flows between the in-store services of a Salon or Spa, and the automated on-line connections, offers, and communications provided by the REACH Platform. By consistently upgrading core learning and analytics products, REACH will make sure you are at the leading-edge of the industry.
Recent Feature Enhancements to the REACH™ Platform include:
1. Personalization at Scale: Not All Clients Are Created Equal.
For years, messaging technology was stuck at giving ALL clients the same generic heads up about an opening or upcoming appointment a.k.a. "spray and pray." REACH achieves superior results because each customer receives a different message based on their unique relationship with your business. Individual buying and booking patterns tell stories that enable smart predictions to be made.
How an individual client interacts with your business drives what message they will receive and when. For example, a regular would get a different reminder message than a client you have not seen in over a year.
2. Subscription Billing:
Increased Billing Flexibility – Salons and Spas can now change their default billing method at any time.

Easier Subscription Transitions –After expiration, Early Adopter merchants can re-activate their subscription with a credit card directly from the "My Plan" tab.

Clearer Results Display – "My Income" ledger now displays results on discreet pages.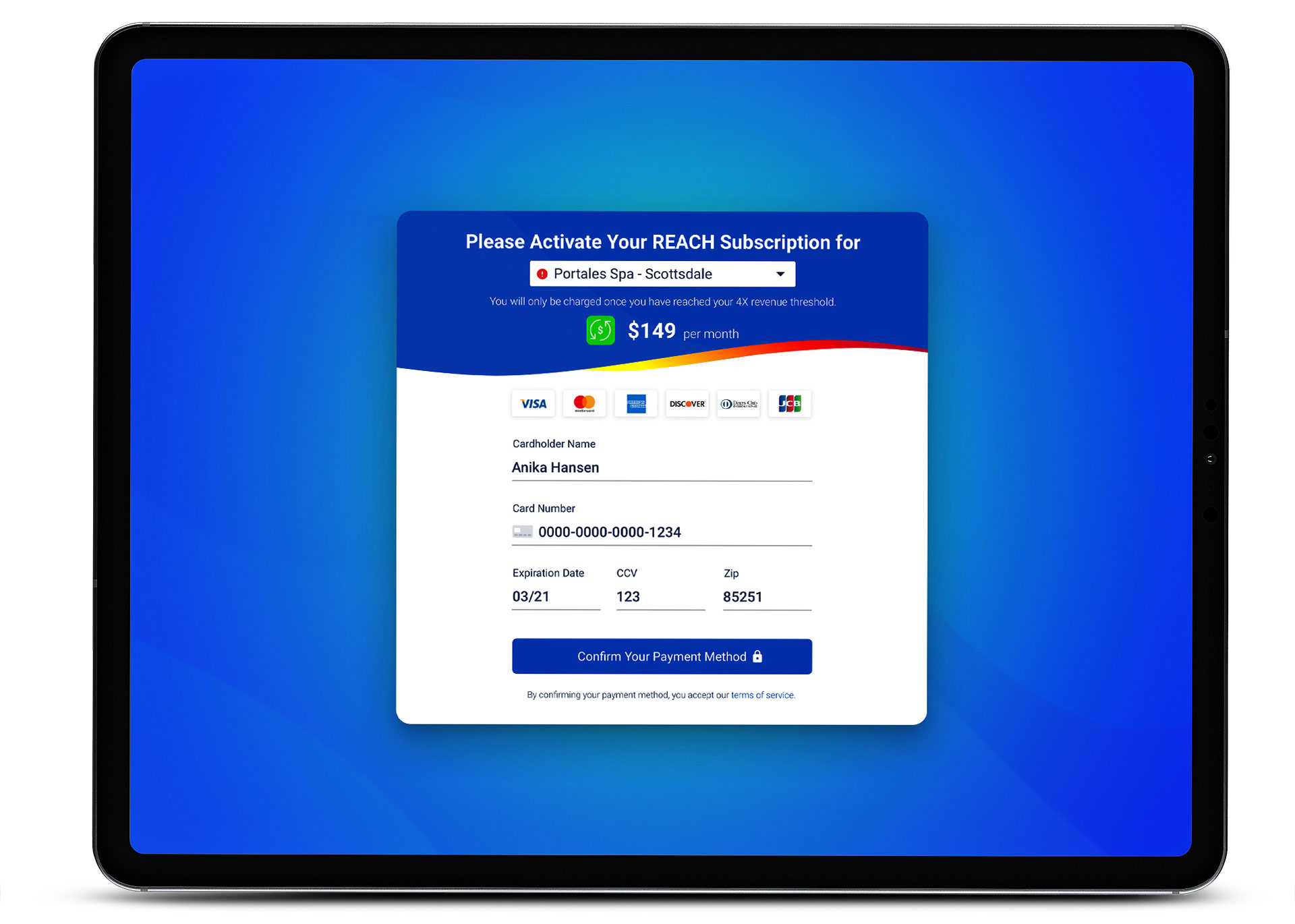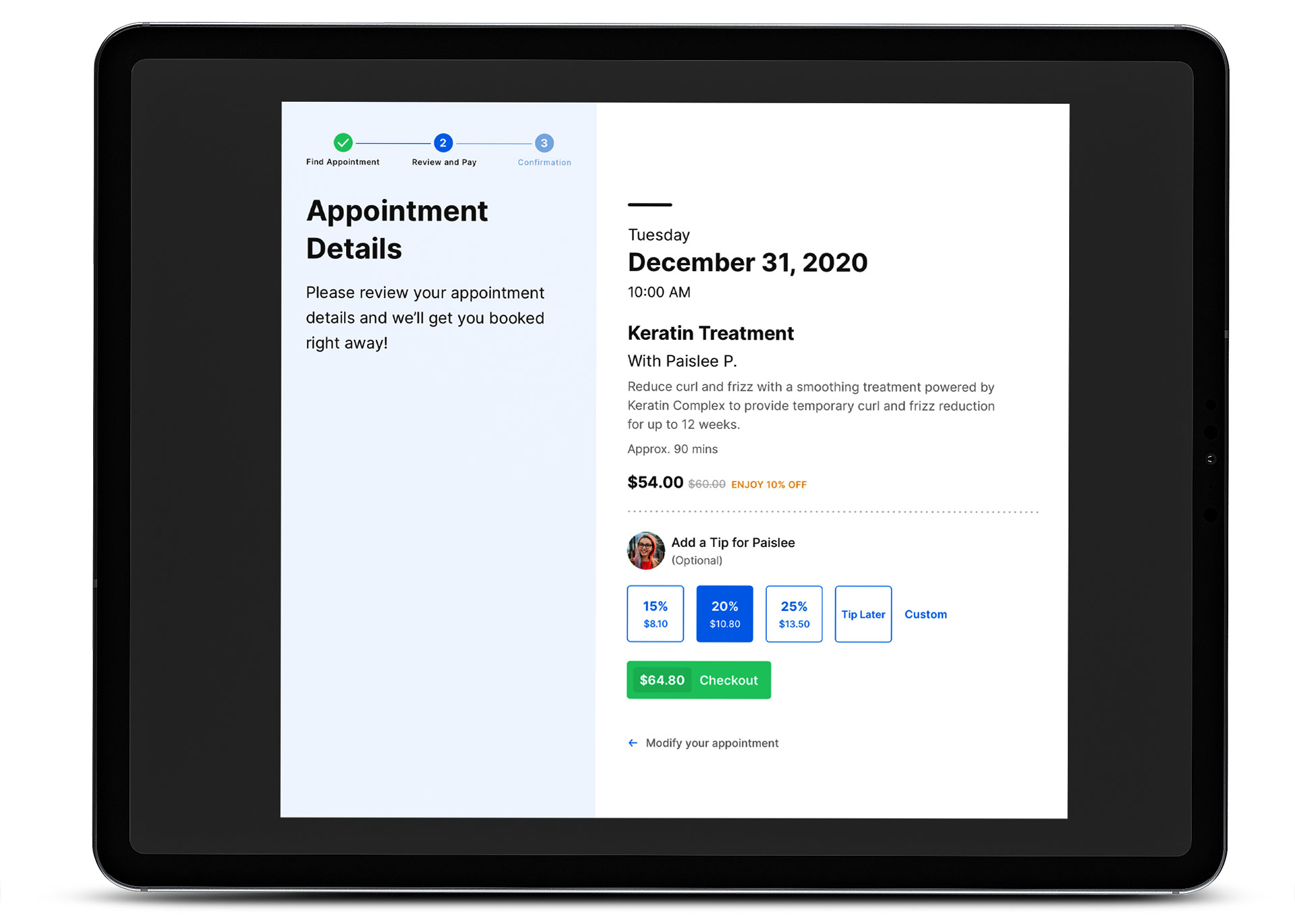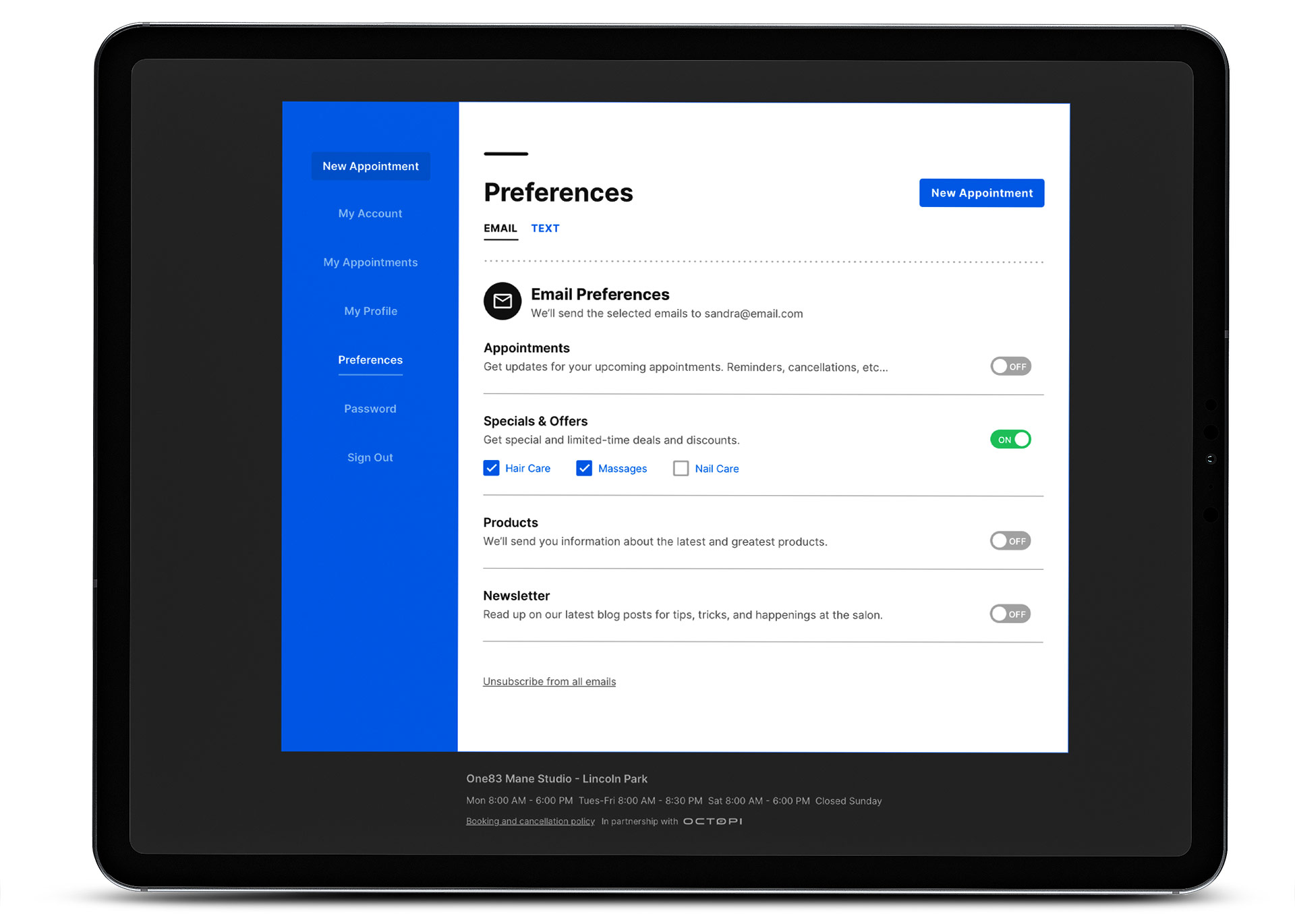 *Screen images simulated. Content is subject to change at anytime. Actual display may vary depending on device.
3. Booking Experience:
Stylist avatar images and personalized messaging are prominent throughout the client booking experience. Merchants may use the "My Providers" tab to upload a custom avatar image for each provider. A default provider avatar image is provided until a custom image has been uploaded.
4. Multi-Location Support:
Merchants may now select between their locations from any credit card screens. This allows them to go back to active subscriptions if they are not ready to reconcile or activate an inactive account.
5. Booking Module – New Features
True Contactless Booking, Gratuity, and Payment.

Clients can now add gratuity during the regular checkout process on the appointment summary screen. Clients can either select a percentage of the service or enter a custom amount.

Gratuity and service subtotals are now displayed on the checkout screen.

Clients can now see any cancellations in their "My Appointments" tab. On this screen, they also now see the status of their refund. (Processing, Pending, or Failed)

Linking existing Google and Facebook accounts to an OAuth account has been streamlined. Note: If the Facebook account was created only with a phone number, clients must add their email address.

Allow or prevent same day booking:

Booking restriction window now allows for the configuration of a specified window of time to prevent bookings. This allows merchants to disallow same day bookings.

Creating or canceling bookings in Meevo now blocks notifications from Meevo. This prevents clients from getting two separate confirmation emails.
LMAi Enhancements (Last-minute Appointment Intelligence)
In order to continually improve the personal, relevant, and timely messaging of the REACH platform, we have expanded the LMAi functionality to include client behavior metrics to identify cohorts based upon recency, frequency, and monetary scores (RFM).
Cultivating a 360-degree client service experience/salon culture where your clients feel truly catered to both in-store and between visits requires new ways of thinking and new dynamic back-office technology tools. Within the millions of bits and bytes of data surrounding your client transactions are treasures – invaluable, actionable information just waiting to be identified and acted upon. Of course, sifting through that data to find these kernels can be either very challenging or impossible, unless you have access to the right technology partner. The automation provided by Octopi's REACH Platform is powered by Artificial Intelligence with custom Machine Learning systems and qualitative analytics that help businesses connect with clients in increasingly effective ways.
Every Salon & Spa owner pays special attention to their top clients. REACH takes that focus to the next level by aggregating all observable factors collected at your POS to provide accurate, holistic insights into each client and their impact on the financial health of your business.
REACH's artificial intelligence-driven messaging and distribution are designed to increase average ticket amount and brand loyalty. Various dynamic client factors such as service trends, financial value, and loyalty provide insights into the most effective messaging for each person:
Without/with a financial incentive

With a particular stylist

At a particular date and time (available openings)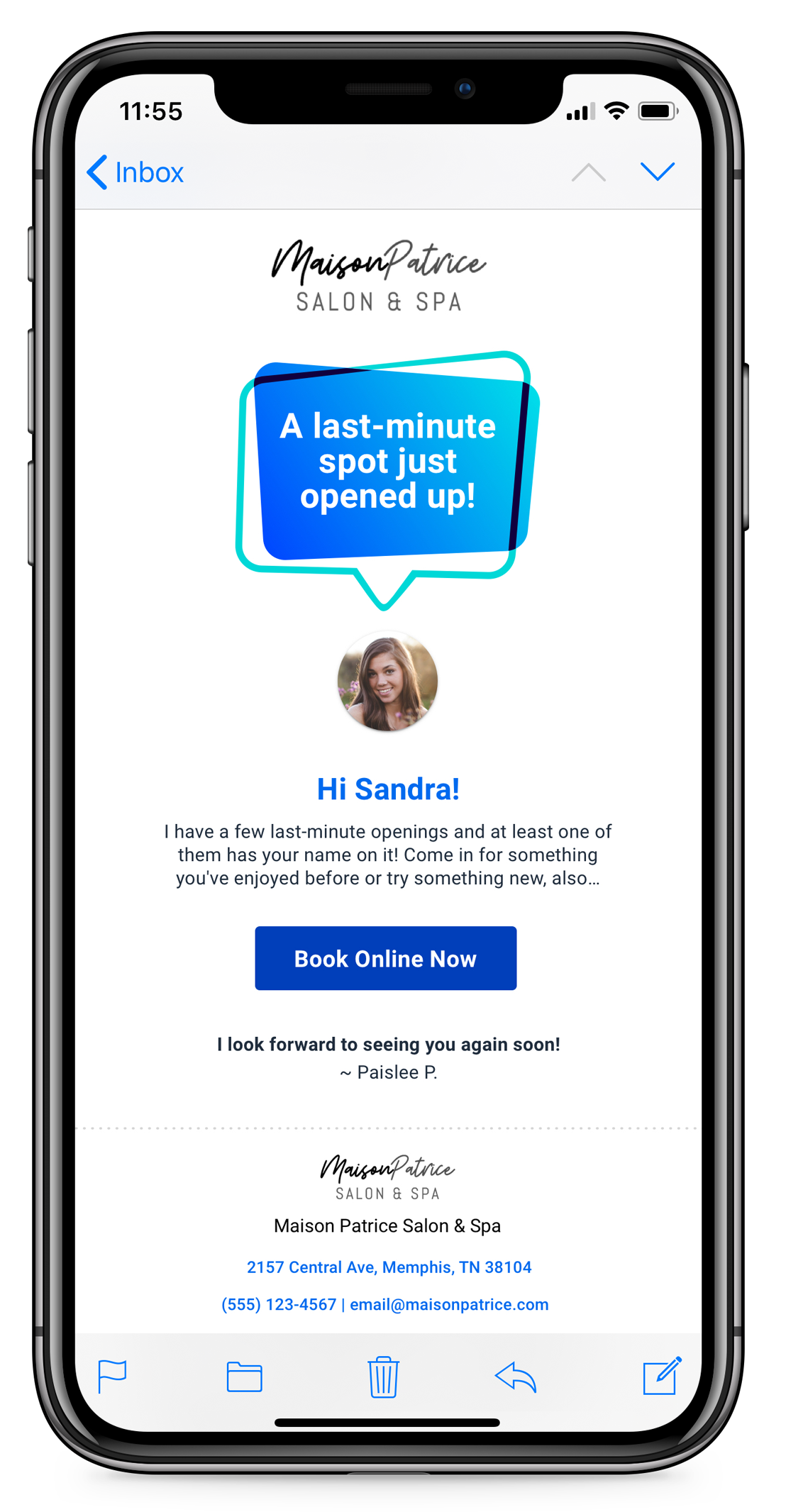 Reputation Radar speeds up by loading results in the background.

Auto-scroll service list to the booking card in focus.

Progress stepper to indicate steps more clearly and to route properly when clicked.

Added environmental metadata that attaches origin to each charge.

This helps fix an issue in the webhooks handler where potential events could sometimes cross environments.

Fixed an issue that was causing the service list to not auto-scroll to the booking card in focus.

This prevents services cards when clicked open, from opening off the bottom of the container.

Fixed some issues with the loading spinner which was causing what looked like screen flickers or redirects.

Fixed an issue that would incorrectly allow clients into a merchant booking page before ACH had been connected.