Put thought and effort into the narrative...
Email marketing is an important part of any business. It is an opportunity for merchants to stay connected to their customers and ensure that their business is at the forefront of consumers' minds when they are making purchasing decisions. The counterpoint is that consumers are routinely bombarded by email messaging they don't need, didn't sign up for, don't want, and isn't relevant to them.
The goal for merchants, then, is to connect with their consumers in a meaningful way so their vital email marketing efforts don't go unopened, or worse, filed automatically into a spam folder. Now, let's get to the top 3 tips…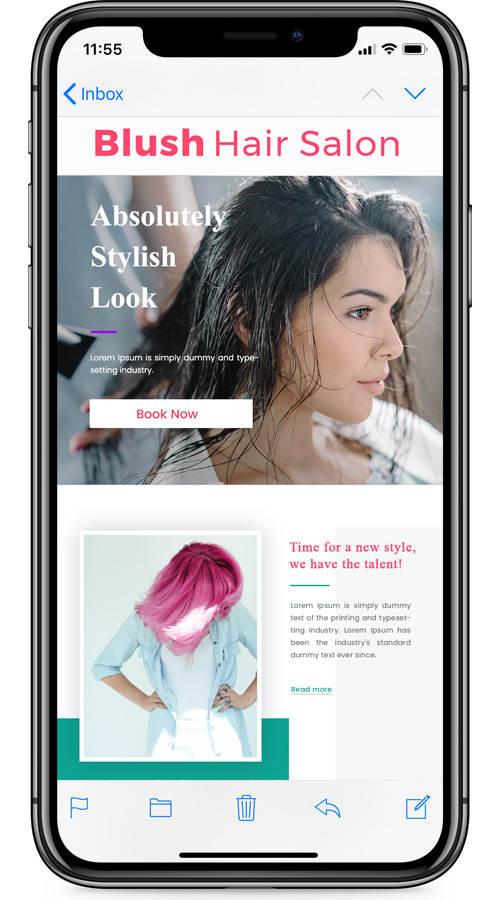 1. Find Your Voice
As we have covered in other posts, authenticity is key in customer interactions. However, sincerity can be difficult to accomplish when text is the only tool in your merchant's arsenal, since most communication exists between the lines.
Each salon or spa has a unique story to tell, and developing an email strategy that accurately reflects that narrative can be the difference between captivating your merchant's primary audience or a missed opportunity.
2. Have a Plan
Crafting engaging emails that grab the recipient's attention doesn't just happen. Your merchants must put thought and effort into the narrative they want to convey and the proper tone and organization with which to tell it. That means blocking off time specifically devoted to email marketing strategy. While your merchants should strive for genuineness, they must also understand that the emails they are writing directly affect their bottom line and, therefore, deserve some attention.
Sarah Waters, Brand Director at Treat Cupcake Bar, says to make every email count, she allots one day per month to write out her game plan. Having a plan in place allows your merchants to offer relevant, valuable, and timely content to their customers. It also keeps emails short, sweet and to the point, and prevents them from getting too unwieldy for readers.
3. Get Creative
If your merchants are unsure of how they can reach their customers through email in new and exciting ways, here are five concepts they can easily put into practice:
Invitation – Keep in mind that face-to-face contact is the ultimate goal for your merchants, and that everyone loves an occasion. Inviting current and prospective clients to an in-house event is a great way to grab their attention and increase your merchants' chances of retaining and growing their business.
Round-Up – If your merchant has a blog on their website, engages their customers on social media, or hosts events at their location(s), they may want to do a digest of what's happening at the salon.
Informative – A great way to engage readers is to share industry insight. In the case of salons and spas, this could mean tips for regular maintenance between appointments.
Video – Video messaging has become increasingly popular as consumers' attention spans have decreased. Utilizing this type of content in marketing strategies also humanizes your merchant's brand and makes them more relatable and engaging.
Profiles – Another way your merchants can build rapport with their customers is by introducing their staff. A fun picture of the employee along with a brief biography that includes the professional's skills and interests, both at work and outside of work, allow customers to build a personal connection with staff members before they even walk in the door.
Conclusion
Maintaining regular communication with customers should be a top priority for your merchants. However, doing so in a way that is genuine and effective can be a challenge.
If merchants define their brand's voice and narrative, and tap into those things that make them unique; put a plan in place for reaching their target audience in a calculated way; and deliver content that is useful and creative; they are sure to hit the mark and appeal to their existing and new prospective customer base.
Octopi Commerce creates seamless solutions for our partners and their customers. Join us for a personalized demo of Reach CDP, our Connected Customer Data Platform. If giving us a call is more your style, dial 888.796.5755 for the scoop on what we offer and what we've been up to lately. Thanks!